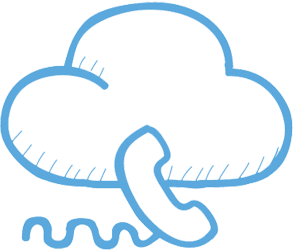 Voice Over IP Telephony (VoIP)
Reliable, Flexible, Scaleble

For many companies, good communication with customers and suppliers is critical.However, most businesses cannot afford to buy or maintain an expensive phone system. That's why Cyrion has partnered up with reliable partners to offer Cyrion|VoIP: the ideal business Hosted PBX solution. Cyrion|VoIP's virtual phone system is not a high-priced system, but it has all the features of a high-priced system. Cyrion|VoIP's business phone system is not a small PBX system with limited capabilities. Instead, you're getting a feature-rich high-end phone system at very low cost. Some of the facilities that you can get from this are:
Eliminate your copper POTS lines
Receive your voicemail messages in your email (.wav format)
A Soft Phone allows you to use an extension on your computers and smart phones, from anywhere in the world
Priced on a per extension basis
Call flows Management
Extension Dialing
Find Me, Follow Me
Music on hold
Conferencing
Time of Day Routing
Directory
Set a Failover Number
Web-base System Management Tools
Phone Number (new or Existing)
Caller ID
Unlimited extensions
Feature codes
Call History
Voicemail boxes
Associate e911 address to each number
IVR/Auto Attendant
Hot Desking
Call Forwarding
Phone auto-provisioner
Manage devices for all users
All standard call handling features
Inbound Call Recording
You Can Distribute Your Workforce
With a virtual phone system, you can route incoming calls to any type of phone, anywhere. This lets your employees work from the office, from home, work sites, or on the road even from another country. Try doing that with a typical small business PBX. You can even "Go Virtual" – move to a completely "virtual" office, eliminating the expense of office rent.

The Cyrion|VoIP IP phone system is a completely integrated system that scales seamlessly from 1 to 10,000 users including PBX, voice mail, and automated attendant functions.
Cyrion|VoIP's system is built from the ground up and designed to be the easiest to use, easiest to manage, full-featured, IP phone system on the market today. Its distributed architecture is ideal for multi-site companies that span multiple locations because the Cyrion|VoIP IP phone system appears and behaves as a single, unified system. Contact Cyrion today to find out what we can offer your business.

With our business PBX solution you will receive a powerful set of features that compares to that of any large corporation.
Some examples of the features included in a virtual phone service are the ability to screen inbound calls, call forwarding capability, complete voicemail systems, logging of calls so you know who called you and when, and an auto attendant PBX phone system that automatically answers and routes calls to the appropriate person.

Small businesses often start with a small PBX and have to buy new systems as they grow – or else they pay too much up-front, trying to make sure their system will be big enough to handle future growth. Our small business phone system lets you start as small as you want and grow to unlimited size, while only paying for what you need.
A virtual phone service for small business takes advantage of the power of the Internet to handle call routing, which is changing how the small business telephone is viewed. Because these services use your existing phone lines, you do not have to spend any money on extra equipment, which keeps the price down while still giving you advanced communication capability.
Designed specifically with the small business in mind, these virtual phone number services give you the features you need at a price you can afford.
BUSINESS PHONE SERVICE
In the recent past you would have had to spend tens of thousands of dollars to get a phone system that have these abilities. Now, by utilizing current technology, these features are accessible by companies of every size and fit into any budget.
Start-ups, small and medium growing firms and even home-based businesses are under served by the telecommunications industry. But there are telephone systems that fits, if you know where to look. Call us at Cyrion and you will have to look no further.
Telephone systems have become very sophisticated in recent years, but for the most part, small businesses have been on the outside looking in. With the recent evolution in Voice over IP telephony (VoIP), the gap between what small business needs and what the market can offer is getting narrower.
While galloping technological advancements have ushered in amazing new features and inversely lower prices for most office equipment, full-featured phone systems have remained largely out of reach for small companies. You can afford a photo-realistic slim line desktop color printer now for a fraction of what it cost just a few years ago, and you can beam your appointment book back and forth from your wristwatch to your laptop for under a hundred bucks, but the prices of telephone systems have not decreased at the same rate. Most small companies are forced to cobble together telephone solutions with a combination of multi-line telephones, answering machines and costly monthly telephone company services.
Cyrion|VoIP phone systems are far more powerful than a normal telephone solution for any businesses, offering flexible automated call answering features, call messaging and call routing that can improve a company's professional image, control communication costs and increase connectivity and responsiveness.
Feature Rich and Dependable